[May Point Network] Drive along the East Line Expressway from Haikou to the south, Boao, Shenzhou Peninsula, Shimei Bay, Qingshui Bay, Haitang Bay... Seventy-eight high-level tourism real estate projects in the east coast of Hainan...
[May Point Network] Drive along the East Line Expressway from Haikou to the south, Boao, Shenzhou Peninsula, Shimei Bay, Qingshui Bay, Haitang Bay... Seventy-eight high-level tourism real estate projects are presented on the east coast of Hainan, not only A large number of high-star hospitality hotels have been provided, which has improved the grade and level of Hainan's tourism infrastructure as a whole.
According to the Hainan Provincial Department of Housing and Urban-Rural Development: As early as 2005, Hainan, driven by the tourism industry, formed a real estate market based on the purchase of people outside the island, completely ridding Hainan of the impact of the real estate "bubble economy". Based on the unique location, resources and environmental advantages, the Hainan Provincial Party Committee and the Provincial Government draw on the successful experience of the developed regions of the international tourism industry, and take the opportunity to put the real estate industry into close contact with the tourism industry--Developing tourism real estate. Hainan's tourism real estate has continued to enter. A fast and healthy development track has become an important pillar of tourism development.
Hainan's unique climatic conditions and good ecological environment have attracted a large number of well-known large enterprises such as Morgan Stanley, Agile, and CITIC to enter the Hainan tourism real estate industry. Since 2005, Hainan's real estate development investment has grown rapidly year by year. From 2005 to 2008, it was 7.085 billion yuan, 8.92 billion yuan, 12.696 billion yuan, and 18.973 billion yuan, an average annual growth rate of 39%, of which 80% was directly used for tourism real estate and Investment in related projects. In the first 11 months of 2009, Hainan real estate investment totaled 24.856 billion yuan. The real estate development focuses on the second-tier cities and counties such as Haikou and Sanya in the first-tier cities, Qionghai, Lingshui, Wenchang, Wanning, Chengmai and Baoting. Both show a situation in which both production and sales are booming.
Song Wei, chief planner of Hainan Provincial Department of Housing and Urban-Rural Development, said that the rapid development of tourism real estate has accelerated and improved the development and construction of tourism infrastructure, creating a good precondition for the development of tourism and continuously promoting the transformation and upgrading of tourism in Hainan. . At present, there are more than 400 tourist hotels in Hainan, including more than 40 five-star hotels and five-star hotels, and 20 five-star hotels under construction. More than 10 foreign top management companies such as Hilton, Sheraton and Marriott have entered Hainan, and the foreign managers of the four or five-star hotels in the province account for more than 25%.
In addition, a large number of leisure resorts, golf courses, tourist attractions and theme parks and other leisure and holiday real estates have been built, attracting a large number of tourist vacationers to enter, and promoting Hainan tourism from low-end tourists to high-end tourists as the main transformation, by the public The consumer market shifts to the mid- to high-end consumer market.
The tourism real estate industry's role in promoting the development of tourism is also reflected in the large number of domestic and foreign people who come to Qiong to invest in home ownership. In the first half of 2009, the number of commercial housing purchased by people outside the island in Haikou City and Sanya City maintained a high proportion. The total number of sets was 76.9% and 78%, respectively, and the total area was 80.9% and 74.9% respectively. This means that there are a considerable number of people each year. Tourists come to Qiong for vacation, and secondly, the real estate industry has directly spawned "real estate tourism", enriching the tourism level of international tourist islands.
The State Council recently issued "Several Opinions on Promoting the Construction and Development of Hainan International Tourism Island", clearly requiring Hainan to actively guide and develop the real estate industry that is compatible with the tourism industry, and develop real estate projects such as star-rated hotels and resorts with Hainan characteristics and high quality. We will steadily develop vacation-style real estate that meets different needs such as escaping from the cold and recuperation.
The head of the Hainan Provincial Department of Housing and Urban-Rural Development said that Hainan Province will complete the "Overall Plan for the Integration of Urban and Rural Economic and Social Development in Hainan Province" according to the needs of international tourism island construction; and plan the key tourism projects such as key tourist attractions and theme parks. Construction; increase the promotion of commercial housing outside the island to promote the healthy and rapid development of the real estate industry.
Song Wei said that in the next two years, with the completion of the resorts and other resort facilities of the coastal resorts such as Wanning Shenzhou Peninsula, Sanya Haitang Bay, Lingshui Qingshuiwan, Ledong Longmuwan, and the East Ring Intercity Express Railway, Boao Airport will be put into use. Hainan will have a number of tourist resorts, international hotels, super-star hotels, high-quality golf courses and other cultural and recreational facilities, health care facilities, and promote the development of mountain tourism such as Baoting and Wuzhishan. Achieving a good development situation of interaction between things and mountains and seas will greatly enhance the tourism quality and reception scale of Hainan, and more effectively promote the pace of international tourism island construction. (Xinhua)
School Education Robot,Eva is mainly used in schools and kindergartens. It is a kind of robot that can study with children and educate children. It brings happiness and knowledge to children. It can be controled by APP.And then walk automiticly.
Product name Eva
Physical dimension 1120mm*600mm*550mm
Total Weight About 36kg
Move way Wheel differential
Walking speed 0.3--0.5m/s (default0.4m/s)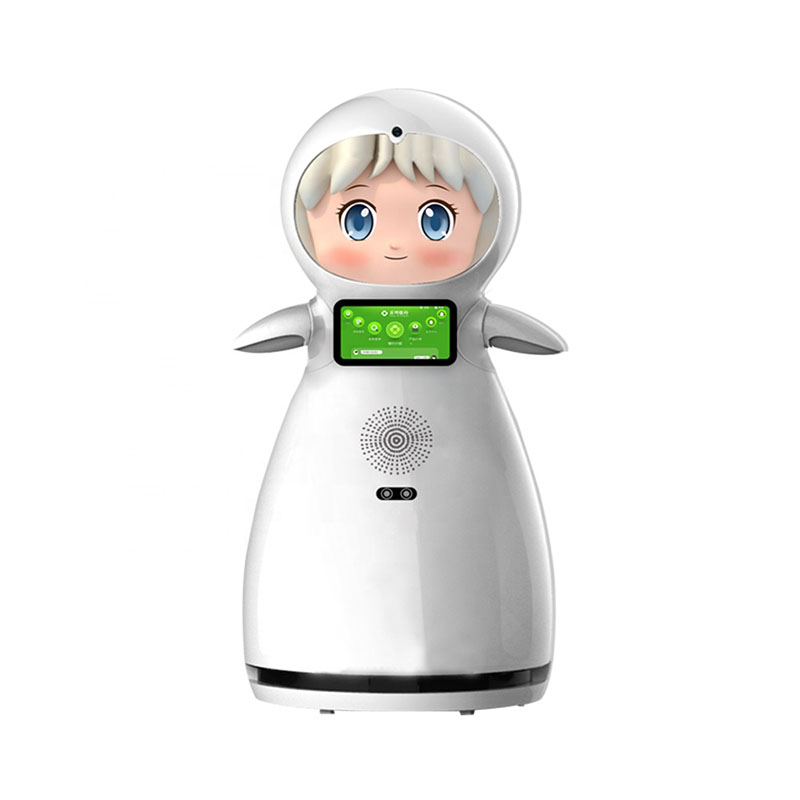 School Education Robot
School Education Robot,School Teaching Companion,The Companion Robot,Talking Interactive Robot
Henan 1st Century Robot Co., Ltd. , https://www.1st-crobot.com