I have been engaged in business for three years. Compared to many older generations, I can only count as a newcomer. Therefore, talking about business experience here is a bit of a slogan and honesty. The longer the working hours, the more arduous the industry feels. I wrote out some of these experiences, sour and sweet, and discussed with everyone. I hope you will give us more advice.
When the clerk visits the client for the first time, he needs to prepare and pays attention to the details.
1. First, maintain a good, optimistic attitude. No matter how much grievances you have just in your heart, and how unhappy you are, you can't reveal yourself when you meet clients. - No one wants to talk to a bitter person! Therefore, you must work hard to adjust your mood in the morning, think more about your usual happiness, and make your face smile from your heart.
2. Before visiting customers, some necessary preparatory work is necessary. The background of the other company, the origin of purchasers, preferences, performance, performance parameters, advantages and disadvantages of the products to be sold, and the production cycle of the company's own products must be known. These are all questions that the other party has to ask. If others ask you to ask them, what else?
3. It is also very important for business personnel to wear clothes. As the saying goes, people rely on clothes and Buddhas rely on gold. In general, visiting customers rarely wears corporate uniforms, usually more formal shirts or casual wear, but customers visit, it is best to wear uniforms. No matter what the clothes are, they must be tidy and clean. Some bizarre hairstyles, or more fancy colors, are more offensive. Men should be careful not to wear sandals to visit. At the front desk of the general company, there is a mirror. You can see if your clothes are neat, if there is dandruff on your head and shoulders, if the hair is messy, if you have just eaten rice, please pay attention to the teeth. Whether you still have leeks leaves, it will make customers very embarrassing. After all these are fine, pay attention to the pens, notebooks, business cards, samples, product manuals, and company product catalogs in your briefcase.
4. For the first time to meet customers, be sure to exchange business cards. Even if you have already registered your name and surname with each other when you have already scheduled a call, you should still exchange business cards. In exchange for business cards, there is also a certain amount of courtesy. Handing business cards can't push the business card directly on the table. Should stand up, lean slightly, and go from bottom to top. The front of the business card must be facing the other person. Do not go up and down, shake it right and left, hand it out, and self-report the name so that the other person cannot call your name. That is very Awkward. When you hand out the business card to the direction, use your hands to pick it up and behave humbly. Then whisper it out. If there is a character you can't name in the other person's name, you might as well ask the other person to ask the other person straightaway. Don't feel embarrassed and put it in your pocket.
When exchanging business cards, there is a topic that can be talked about, such as "Your name really sounds good!" "This name sounds very discouraged!" Before exchanging business cards, you usually have to shake hands. If the other person is a man, you can reach out first. If the other person is a woman or an elder, you must wait for the other person to reach out first. You must not take the initiative and shake hands carefully. If you don't shake hands, you can smile with a nod to indicate.
5. Be polite and nod your head when you are seated, express your gratitude, and sit steadily. Do not sit back and bend, like a prawns, do not shake the Erlang legs wobbly, but do not have too much open legs. Generally shoulder width is good, do not relax yourself too much. You usually sit at the other side of the door so that you can see your face when you come in. Don't smoke, drink tea, and walk around until your partner arrives.
6. Before you see the customer, it is best to chew chewing gum first, because people who do business, or have more mouth-to-mouth, have more breath. But don't chewing gum when you meet customers. When you are talking, your eyes must be looking at each other, and your mouth should be slightly tilted away. Think about it. If someone else speaks to you, how do you feel? For the first time, don't talk nonsense, and cut into the topics as soon as possible because everyone's time is precious. In general, the first time they visited were many questions from customers. Therefore, they should never stop chatting with each other and let others have no place to interrupt.
In other words, if you are familiar with each other and want to communicate, the time is generally better at night after work or on weekends, because it takes hours to get to work and where there is time to talk about it. This is what the business is saying at night. The origin of the.

A unique fabric backdrop in your trade show, college fair or special event exhibit to steal attention at any high-traffic occasion. The impressive full-color printed Dye-sublimation graphic around the easy-to-use extendable frame to display your message in a chic and one-of-a-kind fashion. Folding frame and a tote bag is included in the purchase as well so you can carry your banner to and from each expo or function without breaking a sweat!

Size
8ft 10ft 15ft 20ft or customize

Shape
Straight / Curved

Construction
1pc Display Frame (1¼" diameter clear anodized tubing);
1pcs Dye Sublimation Tension Fabric OPTIONAL;
1pc Simple Oxford Bag;

Feature
Anodized frame & dye-sublimation graphic
Easily set up & dismantle
Light weight to carry & recycle
Graphic washable & wrinkle free & eco-friendly
Come as a bag
displays are designed to be transported.
Alternate graphic for each event
Manufacture directly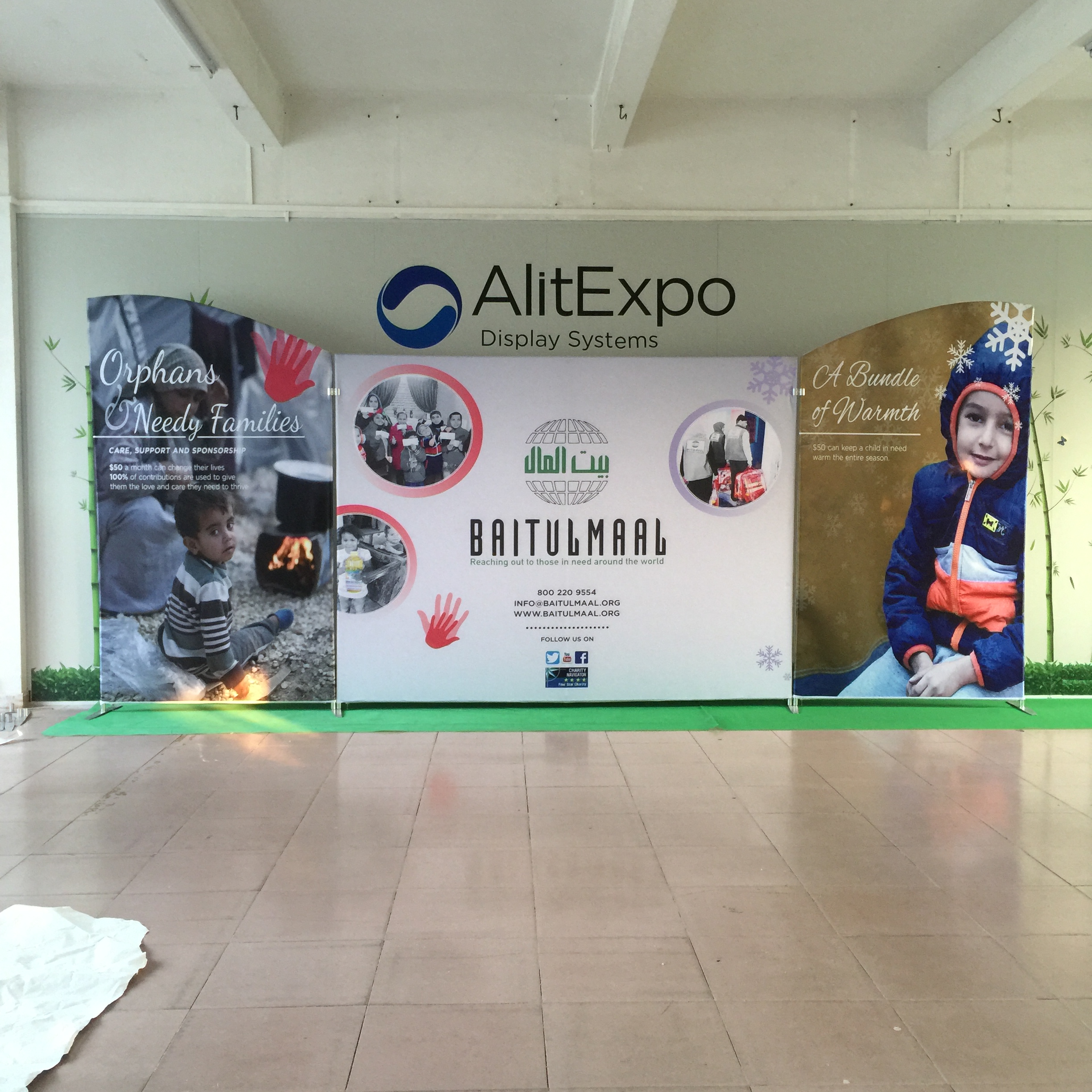 Tension Fabric Display,Trade Show Backdrop,Pop Up Banner,Flooring Display Stand
Alit Expo Manufacturing Co.,Ltd , http://www.alitexpo.com